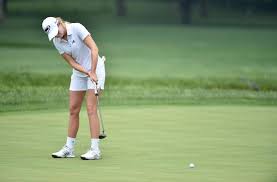 The Course > Putting Greens
Definition: Putting Green
The putting green is an area specifically prepared for putting. Definition
Almost all damage to the putting green (not natural imperfections or aeration holes) can be repaired prior to any shot. 13.1c
Dew, frost, and water may not be removed from the putting green or the hole. Loose Impediment
There is no penalty for accidentally moving a ball or ball-marker on the putting green. The ball or ball-marker must be replaced. 9.7b Exception
When a ball on the putting green moves after it has been lifted and replaced, it must be replaced without penalty. 9.3 Exception
Interference from a wrong green occurs from stance, intended swing, or ball. Relief must be taken. 13.1f(1)
The ball may strike a flagstick left in the hole, a removed flag, or the person attending the flag if accidental without penalty. The ball is played as it lies. 13.2a(2) and 13.2b(2)
When a ball played from the putting green strikes an obstruction (including any player's equipment) that is on the putting green, the shot is cancelled and replayed without penalty. 11.b Exception 2
The line of play may be touched for repair or in pointing out the line of play. 10.2b(2)
A player's caddie or partner must not stand behind the player to assist in lining up their putt. 10.2b(4)
A player must not set anything down on or off the putting green to indicate the line of play. The penalty is immediate. 10.2b(3)
An opponent or another player (not partner) may stand behind the player while the player is putting but it is not proper etiquette.
A player may lift their ball on the putting green while another ball is in motion to prevent it from being hit. 11.3 Exception
See Situations > Deflected, Situations > Ball Holed for more information regarding actions on the putting green.